It's the most wonderful time of the year again. That's right, time to unveil the new 2015 lineup of Nerf Guns. Feast your eyes on the newest innovations to a timeless arsenal of Nerf guns, just in time for the holiday season and beyond! These intense new models will blow your mind and help you channel your inner-Rambo. Check out all of the details on the new blaster models Nerf has to offer!
Newer Years
Nerf N-Strike Elite Crossbolt Blaster
Get ready for a new kind of trigger with the Crossbolt Blaster. A single-shot blaster, this model comes loaded with awesome features, including:
Authentic crossbow action
Range of up to 90 feet
12 Elite darts and clip included
Built for one shot at a time accuracy, the Crossbolt Blaster is the perfect solution for when you need to bring down targets both near and far. The best part: you can load up a dart before you have your target in your sights! Simply attach the loaded clip with 12 Elite darts into the Crossbolt Blaster, pull back the crossbow-action trigger until it's locked in place and you're ready for anything that comes your way!
Nerf Zombie Strike FlipFury Blaster
So a horde of ravenous zombies come around the corner, limping your way, what do you do? If you're lucky, grab your Zombie Strike FlipFury Blaster and go to town! And if they keep on coming, don't worry, this Nerf blaster has you covered. With two 6-dart clips, you can shoot up to 12 zombie strike darts without having to reload once! After knocking down the nearest walking corpses, swap out for fresh ammo by flipping the empty clip with the full clip below it and continue taking out the undead masses! this blaster is built for hectic battles where reloading after a few shots is not an option. Features include:
12 zombie strike darts and two 6-dart drums
Capability to flip from an empty drum to a full one without reloading
a carrying holster to harness the fury!
That's right, it comes with its own holster, giving you a place to tuck your blaster while you head for higher ground to scope out all the nearby zombie hordes.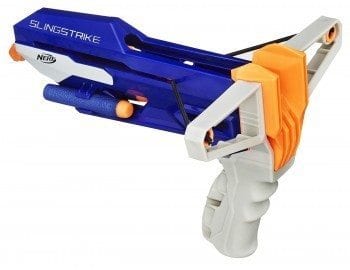 Nerf N-Strike Elite SlingStrike Blaster
What could be better than a Nerf blaster? The only thing I can think of is a slingshot and we all know how fun those things are, it is no wonder that people are still buying them today from websites like https://serp.co/best/sling-shot/. Anyway, the talented people at Nerf have done it again: a Nerf blaster that doubles as a slingshot! The N-Strike Elite SlingShot Blaster is the first-ever Nerf blaster powered by an air-powered slingshot. Meant more for accuracy than for high firing volume, the SlingStrike Blaster comes with two Elite darts, ready to be loaded and fired at a moment's notice! This newly designed Nerf blaster's main features and benefits are:
It's the first Nerf dart-firing slingshot ever
Reliable air-powered shot delivery
Dual fasteners located on the front of the blaster to store the included Elite darts
It makes every shot easy; just load the dart, pull the string, aim, and release!
With capabilities through the roof, the new Nerf guns of 2015 will entice even the most diehard Nerf blaster fanatic. When these Nerf blasters hit the market, the real difficulty begins; with which one will you choose? Never fear, we've got the solution: get them all and save yourself the hassle of choosing just one!