48 years ago NERF was birthed into existence, and now, it's grown into a massive company that releases an upwards of 40+ blasters a year.
This is a huge step considering 10 years ago NERF released around 8… times were different back in 2007.
What's even more remarkable, is that dedicated fans are able to keep up with the huge number of releases, and be the first to break the news; before Gawker, Blasterhub, even Hasbro themselves; before they even hit shelves!
Congratulations to you, nerf nation.
And thank you, internet search and google chrome translator. 😀
It's a great time to be alive. Expanding technologies have brought us many advancements in the dart blaster arena, meeting the longstanding demands of dartbros everywhere.
Without doubt, two of the biggest advancements are:
Accurate darts
70mph ball blasters
Who made them? NERF! And one has been officially released in 2017.
It is a long awaited response to what has long been a fringe community of fans who, looking for better range and accuracy,  took to modding their blasters and crafting homemade darts.
Not that there's anything NERF could do to stop modders from trying to squeeze every ounce of FPS or ROF out of newly released blasters.
But hey, NERF can still try!
View the Nerf Guns of 2017 as a Picture Slideshow
Let's take a closer look at what 2017 has to offer
[thrive_text_block color="orange" headline="Accustrike"]

News of the Accustrike line hit the web mid September, with major sites like Huffington Post and Gizmodo releasing official info on the new series designed to have better accuracy.[/thrive_text_block]
Alphahawk
[responsive_video type='youtube' hide_related='1′ hide_logo='1′ hide_controls='1′ hide_title='1′ hide_fullscreen='0′ autoplay='0′]https://www.youtube.com/watch?v=XSbpA9kaHnA[/responsive_video]
It's a rifle with a drum, integrated stock and sight, and side cocking action. The barrel is interestingly designed to be open enough to eliminate friction, but still partially closed for wind resistance. The trigger is serrated, and the grips are finely checkered, giving this Accustrike blaster the feel of a highly accurate piece of equipment!
Falconfire
[responsive_video type='youtube' hide_related='1′ hide_logo='1′ hide_controls='1′ hide_title='1′ hide_fullscreen='1′ autoplay='0′]https://www.youtube.com/watch?v=n_-sYGki_PA[/responsive_video]
The first pistol in the Accustrike series is a single-shot sidearm that features many of the same details found on the Alphahawk. On it you'll find a serrated trigger, course grips, and iron sight, but also carrying slots for 2 spare darts.
Will Accustrike darts work in other blasters?
A concern many dartbros have is whether Accustrike darts will work in older blasters. The good news is they are the same size as Elite Darts, and because so, can be used in your older blasters!
So, grab some today at your local WalMart and experience the accuracy for yourself.  Just don't expect insane ranges because while they are more accurate they do have less range.
[thrive_text_block color="purple" headline="Rebelle"]
The Rebelle line is known for its crossbow themed blasters and interesting bow-blaster hybrids geared towards girls. It launched in 2013, making this its 5th year in operation. It is also the parent series to the steampunk friendly Charmed series. In 2017, it will be also bear the Accustrike name alongside the N-Strike Elite series. [/thrive_text_block]
Focusfire
This crossbow is cocked on the top, and when fired the 5 dart barrel rotates, chambering the next shot. There's a flip up sit to use for aiming. It comes with purple Accustrike darts for better accuracy.
Trupoint
An affordable pistol that features rear cocking and a red light beam for targeting. It is single shot so you'll most definitely be using this one as a sidearm or for target practice.
[thrive_text_block color="dark" headline="Doomsland"]

Drawing from apocalyptic inspiration, this series continues with a pistol and one crazy looking… blunderbuss?  News of this line leaked in summer of 2015, and was officially announced by Gizmodo, later hitting Target stores in the U.S., but is now sold elsewhere. [/thrive_text_block]
Negotiator
We all love the hammer-action on the Hammershot, so seeing it used on more pistols is a treat. With this new release you can watch the inner workings through the grip as you thumb-cock the blaster and fire, cycling through the 8 shot rotating drum.
Judge
Not much is known about what is being called the Judge. This picture leaked online on facebook and reddit, with not much to go with it. Does it shoot rockets? Balls? Or will it shoot darts? We won't know till the official announcement, so all we can do is guess, but… it probably doesn't shoot rockets… or balls.
TP launcher? 😀
[thrive_text_block color="green" headline="Zombie Strike"]

A favorite that hopefully never dies. This zombie themed series rides the living-dead trend another year with a  seriously cool looking bow. This will be its 5th year of operation.[/thrive_text_block]
Outbreaker
We get to enjoy another crossbow release this year — because crossbows are awesome! You get a 5 shot rotating drum with this one, and a two-finger cocking mechanism for easier cocking, and to top it off a pretty rad design scheme that would have Darryl from TWD envious.
[thrive_text_block color="red" headline="Mega"]

The series with the huge darts continues life with a couple releases, one of which hasn't been "officially" announced yet, but made its way onto the interwebs through a young and very ambitious youtuber. This marks its 5th year of operation.[/thrive_text_block]
DoubleBreach
If any blaster on this page describes its features perfectly through its name; its the doublebreach, which as you would guess has 2 breach points for darts as the muzzle. It's styling makes it the first shotgun-style blaster in the Mega lineup.
Twinshock
[responsive_video type='youtube' hide_related='1′ hide_logo='1′ hide_controls='1′ hide_title='1′ hide_fullscreen='1′ autoplay='0′]https://www.youtube.com/watch?v=xVlFVtFevaw[/responsive_video]
Through unknown means, this young gentleman introduced the internet to the unreleased Twinshock, which looks to be the grown-up version of the Doublebreach — with a splitstrike style muzzle on the end of it.
[thrive_text_block color="blue" headline="Elite"]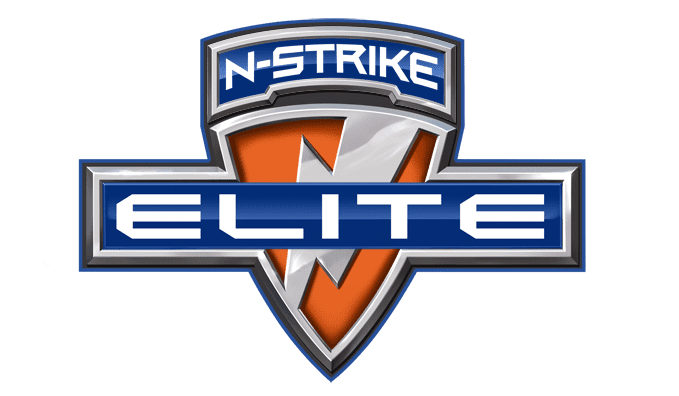 The Elite series is a sub-series of the N-Strike series. They are advertised as having more range than their parent series. This is one of the oldest running series continuing on into 2017, with roots all the way back to 2012. It's trademark look is the blue, white, and orange color scheme, but has been known to break this scheme with releases like the Demolisher and Pocketstrike.[/thrive_text_block]
Disruptor
The popular Strongarm lives on in the new Disruptor, which like your aging uncle, looks a little bit different this year. It has a 6 shot rotating drum and two strap points for a lanyard or sling.
[thrive_text_block color="orange" headline="Rival"]

The rival series is what happens when you mashup paintball with toy dart blasters. Its the go-to series for competitive team-based play, which is made easy with the two color options of red and blue. Unlike other blasters, the RIVAL series shoots dimpled foam balls at an astonishing 70mph, making them fast yet safe option for intense play.[/thrive_text_block]
Artemis

Artemis XVII-3000 features slam fire action and 3 top loaded magazines, carrying a total of 30 rounds. Like many blasters these days it too comes with a tactical rail and strap points for a sling.
[thrive_text_block color="light" headline="Modulus"]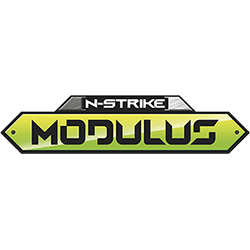 Another child of 2015, the Modulus series features something fans have always wanted –customization! This is one of the 3 areas of focus in 2017, which NERF has advertised as being; speed, power, and customization. [/thrive_text_block]
Stockshot
This year you get more attachments for your Modulus blasters, one being this compact, 4 shot stock-blaster hybrid. You can attach this accessory as a stock on your Modulus ECS-10, and detach it to be used as a quick backup when things get crazy. Pull the cocking mechanism at the bottom of the handle and squeeze the trigger to blast off a shot.
Barrelstrike

With a foldable stock this blaster can be folded and turned into a barrel extension for a Modulus blaster like the Modulus ECS-10. You can use it as secondary firing-option while attached, or detach it and use it on its own.
What can you expect later this year?
[responsive_video type='youtube' hide_related='1′ hide_logo='1′ hide_controls='1′ hide_title='1′ hide_fullscreen='1′ autoplay='0′]https://www.youtube.com/watch?v=iqvaL-syGl0[/responsive_video]
My guess is the theme of speed, power, and customization will be a big part of the year…
AND Accuracy!
When Precision matters, aim for the Accustrike blasters. How soon before they're in your collection?

Posted by Nerf on Tuesday, January 10, 2017
But, some of these blasters were released in 2016!?!?!
One of the interesting things about the billion dollar industry of foam warfare is that its grown so big that releasing a new blaster everywhere is almost impossible.
It almost always happens in waves.
What does this mean? Well, it basically means some people get the goods first, while others have to wait…
Fact is, there are areas in this wide-world that get releases before others.
There are parts of the world that see releases years later!
If that doesn't just blow the mind!
It gets even more complicated when you factor in that stores get to call dibs on being the first to sell a new release!
But, with all the logistical stuff aside, you have more opportunity now than ever to customize your blaster even further, even if sometimes it means you have to wait a little longer to find it in-store than the rest.
With that said, here's to 2017, and may your arsenal come out stronger than before, dartbros!
Want more?